The Purveyor of Elite Timepieces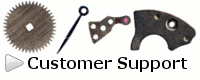 We stand behind every one of our elite timepieces with elite customer service. Please fill out the customer support form below and an associate will contact you shortly. If you have a general question about selling your timepiece please read our FAQ.
You can also contact us via phone during normal business hours by calling 1-888-701-TIME.