The Purveyor of Elite Timepieces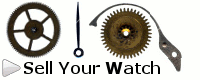 We understand you may have some questions about Elite Timepieces or our watch buying process. Please click a common question below to learn more about Elite Timepieces.
---
Questions
Q1: How should I ship my watch?
Q2: Can I trust Elite Timepieces with my watch?
Q3: How long does it take from the time Elite Timepieces receives my watch to when I receive my money?
Q4: How does Elite Timepieces pay me if I decide to sell my watch?
Q5: Does Elite Timepiece pay/reimburse for my shipping charges?
Q6: Does Elite Timepieces really purchase any watch, in any condition?
Q7: Does Elite Timepieces ship my watch back free of charge if I decline the offer?
Q8: Can I contact Elite Timepieces 24/7 for support?
Q9: Does Elite Timepieces negotiate on the offer price?
Q10: Can Elite Timepieces find me a watch that I would like to purchase?
Q11: Is Elite Timepieces affiliated with watch companies and are all Elite Timepieces watches genuine?
Q12: Why should I sell my watch to Elite Timepieces instead of selling it on eBay, Craigslist, classifieds or on my own?
Q13: How does Elite Timepieces determine the offer price for my watch?
---
Answers


A1: Please ship your watch, watch boxes, and all original paperwork along with your watch shipment form via USPS insured postage or UPS/FedEx.

A2: You can trust Elite Timepieces with your watch. We have purchased over 20,000 watches online and through our retail storefronts. During this period we have never lost or damaged even one watch. We will inspect your watch and provide a fair and honest offer price or opinion. Our associates and watchmakers consistently offer a better price than any other online watch buyer or pawn shop/jeweler. You will be satisfied with our elite customer service, guaranteed.

A3: Once we receive your watch, it is immediately sent to our watchmakers for inspection and authentication. This process usually takes one day, you should receive the payment for your watch in hand within 2-3 business days from the date you accept our final offer.

A4: We generally pay cash via Certified Check, Certified Money Order, PayPal or Wire Transfer. On large purchases we will pay via your recommended method, this can include wire transfer, check, etc.

A5: We reimburse for shipping charges if we purchase your watch. We may set a limit on reimbursement for shipping charges at our discretion.

A6: We are the only watch broker in the world that will purchase any watch, pocket watch, clock or other timepiece in any condition. We have purchased timepieces ranging from a few dollars to over one million dollars.

A7: Yes, we will ship your watch back at our expense via USPS, UPS or FedEx confirmation/signature required delivery.

A8: Yes, you can contact us 24/7 via email by clicking here, you can also call an associate at 1-888-701-TIME during normal business hours.

A9: Yes, we are always open to negotiation on our offer prices.

A10: Yes, we can find any watch that you would like, we may already have the watch in our inventory. Please contact us for assistance.

A11: We are not affiliated with any watch company. All Elite Timepieces watches are guaranteed to be authentic or your money back. We rigorously inspect every watch we receive for authenticity, and after over 20,000 watch purchases have never failed to spot a fake/replica or stolen watch. All of our timepieces are referenced against the Watch Searcher, WCSA and Trace databases of counterfeit and stolen property; we then have our expert watchmakers certify the watch for absolute authenticity.

A12: Selling your watch to Elite Timepieces insures that you receive your cash without any risks. Our prices are usually greater than what you would get for the watch if you sold it yourself. On eBay you are subject to selling fees and scammers. Often you will sell your watch, ship your watch to the buyer and the buyer will then defraud you of your money through the eBay/PayPal dispute system. This can result in you losing your timepiece and your money. Selling on Craigslist or classifieds can leave you open to armed robbery or worse. Pawn shops and some jewelers offer consistently low prices. Elite Timepieces is a safe and reliable way to get a fair price for your timepiece.

A13: Several factors determine our offer value for your watch. We evaluate the current market value of the watch based on major auction results, our previous retail sales, and exact book values. We also reference our exclusive Elite Timepieces Real-Time™ Database which has values for thousands of watches. In addition, we factor in the the condition of the watch and if the watch runs, the cost to refurbish the watch, and how desirable the watch is on the pre-owned market. The original retail price normally has little to do with the value of any pre-owned watch.
---
If you would like to get an offer on your watch simply click below to fill out our offer form to begin the process: